Bees at the museum
Organic honey & bee products from KUNST HAUS WIEN
BEE HAPPY & BEE INSPIRED
KUNST HAUS WIEN is home to two bee colonies that live on the museum's roof garden and produce organic honey. As the first green museum with the Austrian Eco-label, KUNST HAUS WIEN also wants to set impulses for species protection and biodiversity. The two colonies comprise about 140,000 honey bees and are cared for by master beekeeper Thomas Zelenka. In one year, the bees produce about 80 kilograms of finest honey, which is exclusively filled into jars. The bees collect their nectar in the green garden and courtyard as well as on the museum façade.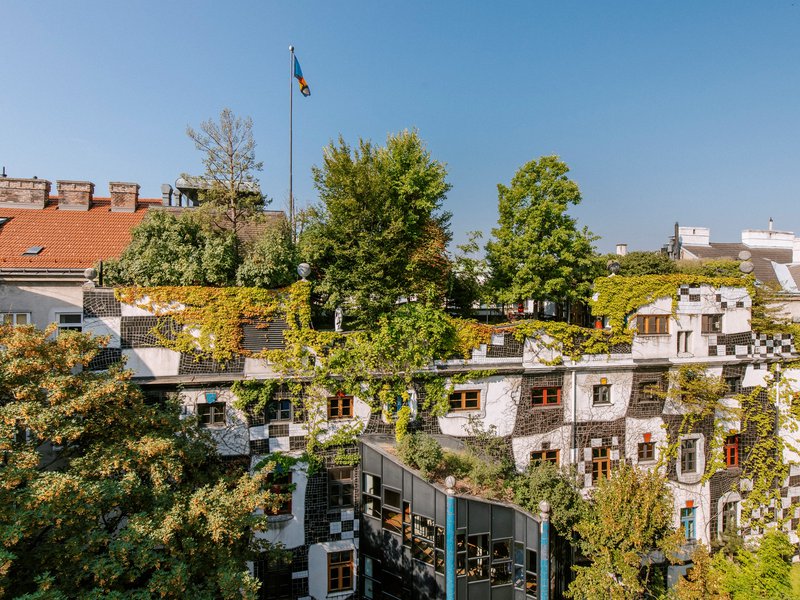 GREEN PARADISE IN THE MIDDLE OF THE CITY
In the context of the exhibition RESANITA. Das Haus als Wirt (2018), the artist duo RESANITA examined the flora of KUNST HAUS WIEN and was able to identify a species spectrum of more than 260 plants. This biological diversity particularly stimulates honey production. In contrast to agricultural areas, where mostly monocultures are harvested within a few days, the city is therefore usually more attractive for the honey bee.
HUNDERTWASSER'S PHILOSPHY
The museum greenery planted by Friedensreich Hundertwasser makes a significant contribution to biodiversity in urban areas and thus creates an ideal habitat for honey bees. Among them in the garden are apple, pear and nut trees as well as linden trees, whose nectar bees particularly enjoy harvesting.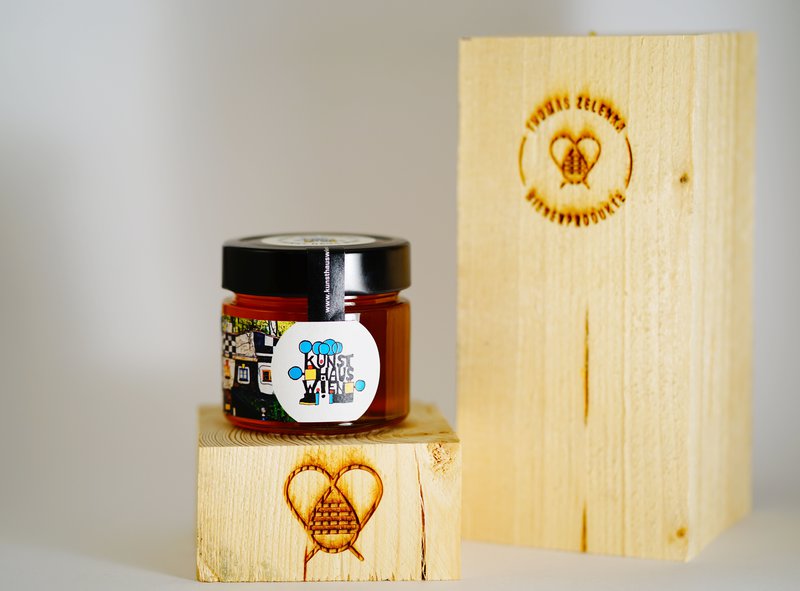 HONEY-SWEET GIFTS: SUSTAINABLE & REGIONAL
The exquisite organic honey from the KUNST HAUS WIEN roof garden is available for purchase in the museum store, along with high-quality bee products by Thomas Zelenka, such as handmade candles, lip balm with natural propolis, or honey gummy bears for snacking. Furthermore, we offer a special for honey and art lovers with our KUNST HAUS WIEN annual ticket and a honey jar or a beeswax candle.