Annual Ticket
365 DAYS OF ENJOYMENT
Due to modernisation measures, KUNST HAUS WIEN will close from 31.05.2023 until the beginning of 2024. Annual tickets already purchased will be extended for the duration of the closure period.
KUNST HAUS WIEN UNLIMITED

The Annual Ticket offers you 365 days a year of art and cultural enjoyment with unlimited access to all exhibitions and exclusive events at KUNST HAUS WIEN. Discover the world's largest permanent collection of the works of Friedensreich Hundertwasser in the first Green Museum as well as changing exhibitions on ecology and contemporary photography. As part of the annual ticket community, we also invite you exclusively to a curator's tour with a drink through the current temporary exhibition.
Your benefits at a glance
Visit KUNST HAUS WIEN 365 days a year as often as you like
Worthwhile from the 2nd visit
Exclusive curator's tour of every major photography exhibition with a drink
Poster for each temporary exhibition as a gift
Invitations to all openings and events by newsletter
Annual Ticket
Annual Ticket € 22,-
Unlimited admission to the Museum Hundertwasser & all temporary exhibitions
Annual Ticket For Two € 42,-
Share Art - Bring a Companion of Your Choice
The sustainable gift
Give your loved ones or yourself an artistic treat with our Annual Ticket Specials. From honey-sweet bee products and extensive reference knowledge on Hundertwasser to a catalogue on the current exhibition After Us, the Flood or a limited photo edition, you can complement your Annual Ticket with these unique presents.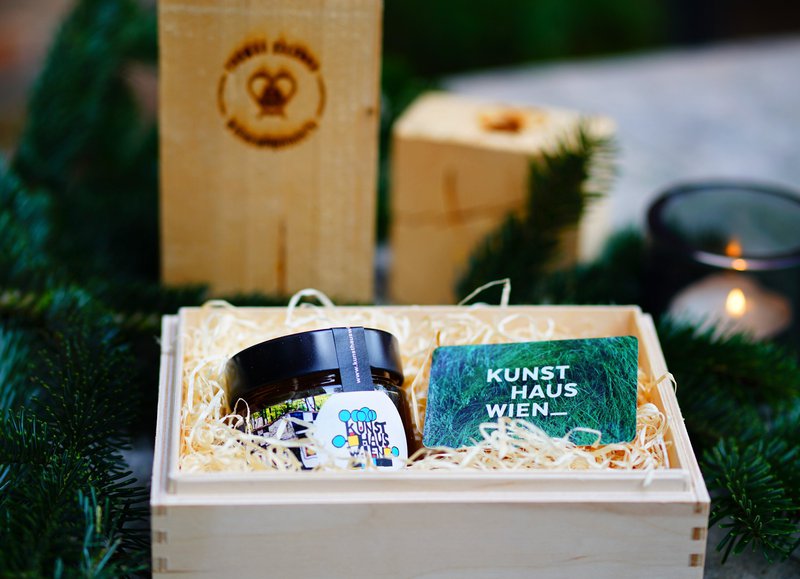 Annual Ticket & Honey € 29,-
The perfect gift for honey and art lovers! The exquisite honey comes from bee colonies on the green roof garden of KUNST HAUS WIEN, which are looked after by master beekeeper Thomas Zelenka. The outstanding quality can be recognised by the shimmering amber colour. The honey tastes both mild and delicately spicy - yet the taste changes depending on the weather conditions of the year. Each honey is therefore unique.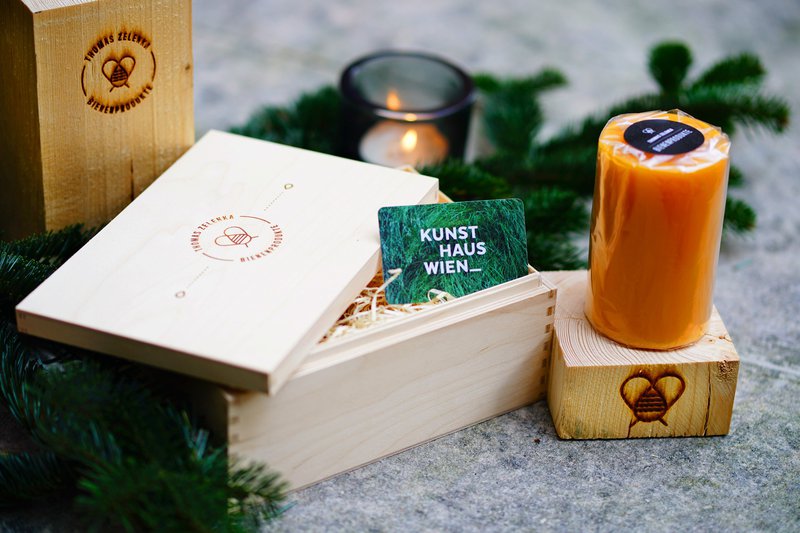 Annual Ticket & Candle € 29,-
With its wonderfully fragrant beeswax note, this pillar candle handmade by master beekeeper Thomas Zelenka creates a harmonious and cosy atmosphere. It is made of 100 percent pure beeswax from honey bees living on the roof garden of KUNST HAUS WIEN and is characterised by a particularly long burning time. An extraordinary gift for contemplative hours!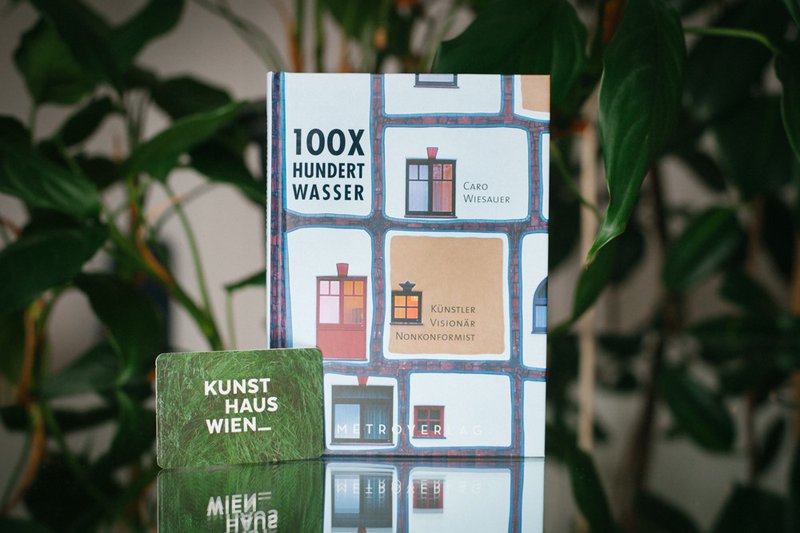 Annual Ticket & 100xHW € 29,-

He was an artist, lateral thinker, actionist, provocateur, internationally celebrated media star and advocate of nature: Friedensreich Regentag Dunkelbunt Hundertwasser was the non-conformist par excellence. The book 100 x Hundertwasser answers the most important questions about the life of an exceptional artist whose ideas and unconventional approaches to everyday life fascinate people all over the world. A must-read for every Hundertwasser fan!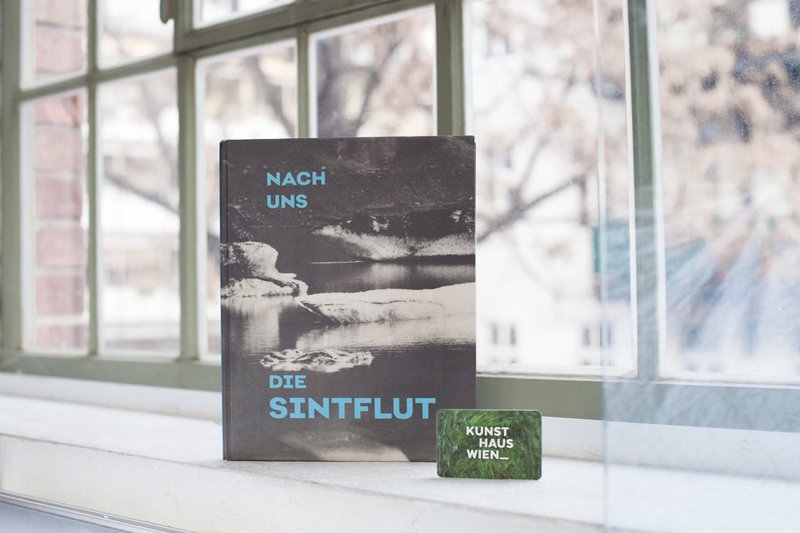 Annual Ticket & Exhibition Catalogue € 49,-
With a presentation of all the exhibited photographs and video works as well as comprehensive background information on the artists and works, the catalogue to After Us, the Flood offers a broad overview of the exhibition. Texts by director Bettina Leidl, curators Sophie Haslinger and Verena Kaspar-Eisert as well as Nils Gütter, Gaby Hartel and Lukas Egger shed light on the relationship between man, economy and nature. A timeline also provides a chronological overview of formative events in the history of capitalism and ecology.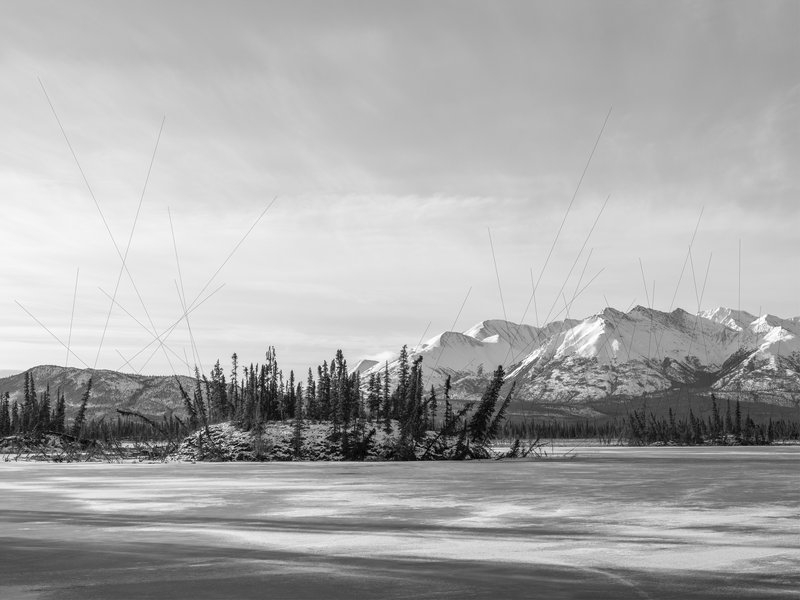 Annual Ticket & Artist Edition € 270,-
Exclusively for the exhibition After Us, the Flood, the work Drunken Trees on Thermokarst Lake by Benedikt Partenheimer is available as an artist's edition. The signed edition is limited to 30 photographs and is printed on high-quality Hahnemühle paper using archival printing. Partenheimer's works captivate with a sensitive visual language and at the same time depict scenes that seem dystopian. In his Memories of the Future series, the artist deals with the thawing of the permafrost and its effects on the world's climate.